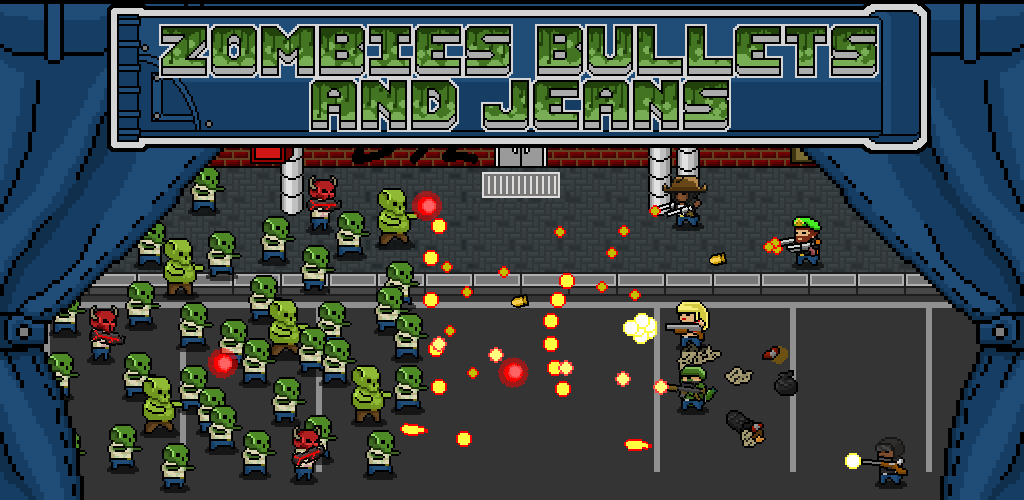 Zombies Bullets And Jeans
A downloadable game for Windows and Android
Zombies Bullets And Jeans is a top down 2D twin stick arena shooter
where there is only one goal. survive a horde of brain munching zombies
for as long as possible, shoot your way through the endless waves of
Zeds all while upgrading your character from collecting z-coins.
Features:
*2.5D art Style:
Retro
2D pixel art with Depth move behind and in front of objects but be
careful the zombies can also hide behind objects giving them one more
way of catching you off guard.
*Upgrade system:
Simple yet
effective upgrade your health, armour, damage and regeneration
capability's using z-coins to better prepare for the next battle.
*Enemy on Enemy Action:
Tired of the zombies only hurting you? a well placed shot on certain zombies
can cause an explosion that cripples the Zeds advances damaging anything
caught by the bile.
*Retro Sound Effects.
simple sound effects that attempt to complement the 2D visual style.
Other information.
The
music in the game is used under the creative commons attribution
licence. i did not make the music nor do the creators endorse my use or
changes i have made links are provided bellow to the original music and
bellow that i have listed the changes made to the music.
https://creativecommons.org/li...
https://soundcloud.com/nonbiri...
Edited the start of the song into a loop.
https://soundcloud.com/nonbiri...

---- YouTube Content Creators ---

You can upload videos of this game (Zombies Bullets And Jeans by TechDogGames) with or without voice overs of any kind and they can be monetised, this privilege CANNOT be revoked and this can be used as proof in any circumstance that monetisation on your video of this game is disputed by TechDogGames or affiliates of TechDogGames for any reason.
Download
Click download now to get access to the following files:
Zombies Bullets And Jeans.apk
16 MB
Zombies Bullets And Jeans.exe
8 MB
if you pay $0.99 USD or more
Also available on